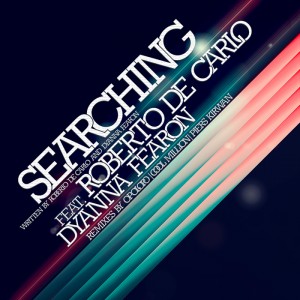 Roberto De Carlo is back in full effect, get ready for another soulful House bomb! – Roberto De Carlo feat. Dyanna Fearon 'Searching'
For him, this is a very special release. As an ambitious independent Artist he is proud to present his first single, which is exclusively available in his own music download store. This release will definitely find many fans in the soulful house scene.
For this debut Roberto De Carlo teamed up with one of the most talented soulful house singer and songwriter Dyanna Fearon "The soulful House Princess".
Dyanna Fearon, an extraordinary talented beauty with music in her blood, was born and raised in the UK with an Indian Jamaican background. In the past she lent her vocals to the successful "D-Influence presents D-Vas" album, Reel People's debut album "Second Guess" which featured one of the most successful productions of Reel People "Butterflies" and Rasmus Faber's debut album 'Where We Belong' which featured the club hit single "Give It To Me".
Miss Fearson's smooth and warm vocals fit perfectly in Roberto De Carlo's soulful House Music. The Original Mix is an inimitable classic soulful vocal House Tune with fierce drums, gorgeous Fender Rhodes chords, smooth funky bass line and guitars ala Nile Rodgers. The remixes have been made by Opolopo who have turned the track into a cosmic Nu Disco atmosphere that makes it completely different from the original, it could be a movie soundtrack from the 80s. The duo composed of Frank Ryle and Rob Hardt aka Cool Million who bless us with a remix that brings us back to the upbeat funk sounds of the 70s/80s and then there is Piers Kirwan (one half of Stereo Mutants) who adds his unique touch and takes the song to a deeper ground that guarantees to spread an uplifting feeling on the dancefloor. All things considered Roberto De Carlo brings out a fantastic package that is only and exclusively available in his own music download store!
For licensing contact: click here!
Credits:
Music composed by Roberto De Carlo
Lyrics written by Dyanna Fearon
Produced, arranged and mixed by Roberto De Carlo at the RDC Studio
All Vocals by Dyanna Fearon
Keys by Simon Grey
Guitars by Roland Cabezas
Bass by Michel Gsell
Mastered by masterlab.de
P+C 2012 Roberto De Carlo